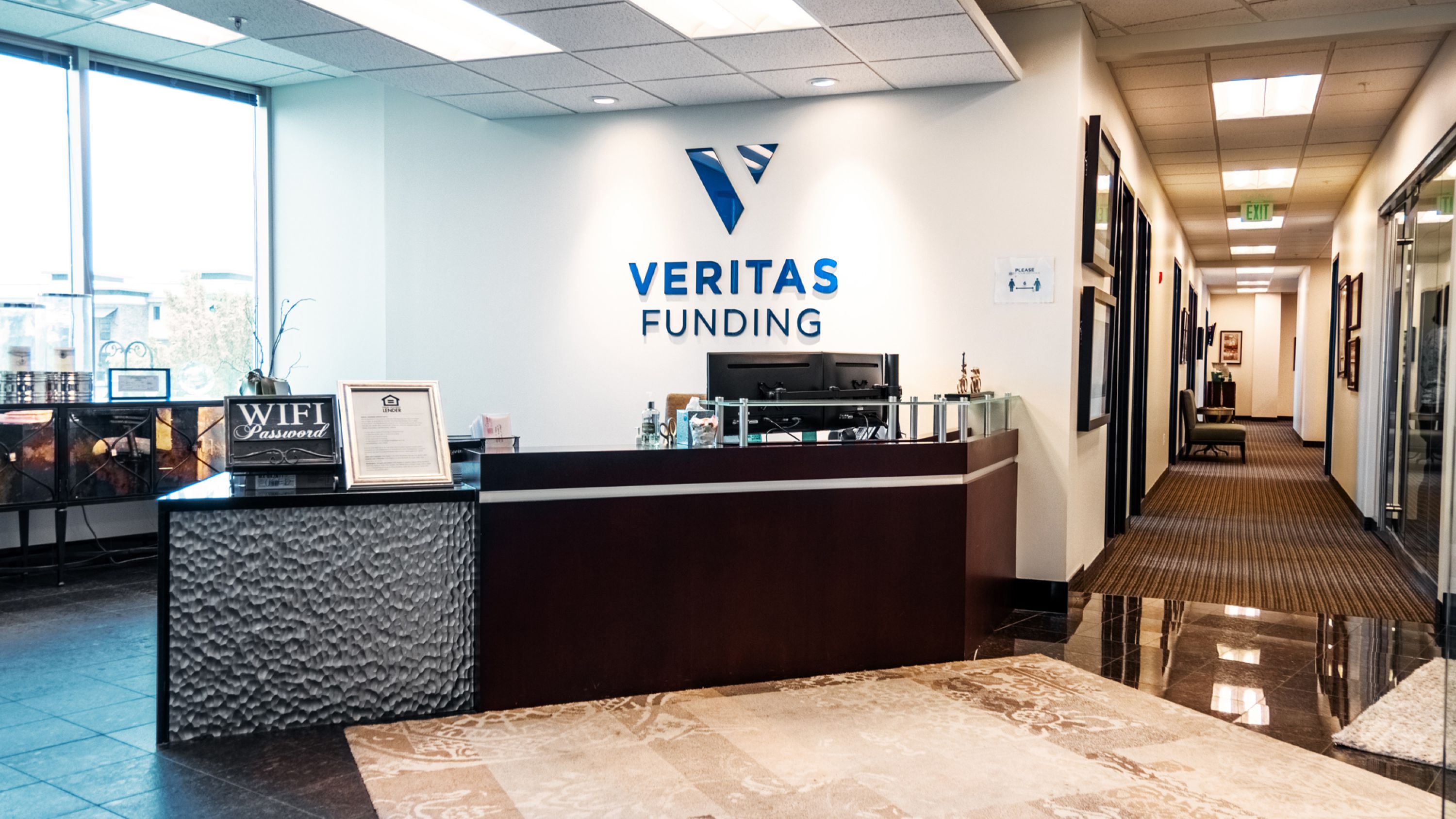 Terms and Conditions
Terms &
Conditions
Terms of Use
PLEASE READ THESE TERMS AND CONDITIONS CAREFULLY. BY ACCESSING THIS WEBSITE, YOU AGREE TO BE BOUND BY THE TERMS AND CONDITIONS BELOW. THESE TERMS AND CONDITIONS ARE SUBJECT TO CHANGE. ANY CHANGES WILL BE INCORPORATED INTO THE TERMS AND CONDITIONS POSTED TO THIS WEBSITE FROM TIME TO TIME. BY CLICKING ON ANY WEBPAGE BEYOND THE WEBSITE'S HOMEPAGE CONSTITUTES YOUR ACCEPTANCE AND AGREEMENT WITH THE TERMS OF USE WHETHER OR NOT YOU COMPLETE A TRANSACTION WITH THE COMPANY. IF YOU DO NOT AGREE WITH THESE TERMS AND CONDITIONS, YOU MAY NOT USE THIS WEBSITE.
Website Ownership
This website is owned and operated by Veritas Funding, LLC., 7050 Union Park Ave, , which is referred to below as "Veritas Funding" or "Veritas" or "we" or "us" or "Company" or "our."
Permitted Use
You acknowledge that:
Our use of this website is subject to and governed by these Terms of Use,
You will comply with and be bound by these Terms of Use as they appear on this website each time you access and use this website,
Each use of this website by you indicates and confirms your agreement to be bound by these Terms of Use, and
These Terms of Use are a legally binding agreement between you and Veritas Funding that will be enforceable against you.
You agree that you may not use or attempt to use this website or any part of this site for any purpose:
That interferes with or induces a breach of the contractual relationships between Veritas Funding and its employees;
That is any way unlawful or prohibited, or that is harmful or destructive to anyone or their property;
That transmits any advertisements, solicitations, schemes, spam, flooding, or other unsolicited Email;
Or unsolicited commercial communications; that transmits any harmful or disabling computer codes or viruses;
That harvests emails from this site;
That attempts to gain unauthorized access to our network services;
That transmits or uploads pornographic, violent, obscene, sexually explicit, discriminatory, hateful, threatening, abusive, defamatory, offensive, harassing, or otherwise objectionable content or images;
That uses any methods, means or devices to click on to this website or cause a visit to this website for the purpose of manipulating the results of any Internet search engine, or for any other purpose other than conducting mortgage banking related business with Veritas Funding as a bona fide client of Veritas Funding;
That unlawfully impersonates or otherwise misrepresents your affiliation with any person or entity;
That dilutes or depreciates the name and reputation of Veritas Funding or any of its affiliates;
That transmits or uploads any content or images that infringe any third party's intellectual property rights or infringes any third party's right of privacy; or
That unlawfully transmits or uploads any confidential, proprietary or trade secret information.
Website Access
Veritas Funding reserves the right at all times, in its sole discretion and without notice to you, to deny your access to and use of this website.
Copyright Notices
You acknowledge and agree that works of authorship contained in this website, including but not limited to all design, text, sound recordings and images, are owned, except as otherwise expressly stated, by Veritas Funding. Except as otherwise expressly stated herein, they may not be copied, transmitted, displayed, performed, distributed (for compensation or otherwise), licensed, altered, framed, stored for subsequent use or otherwise used in whole or in part in any manner without Veritas' express written consent.
Links to Other Websites
Links to non-Veritas Funding websites are provided solely as pointers to information on topics that may be useful to this website, and Veritas Funding has no control over the content on such non-Veritas Funding websites. If you choose to link to a website not controlled by Veritas Funding, Veritas Funding makes no warranties, either express or implied, concerning the content of such site, including the accuracy, completeness, reliability or suitability thereof for any particular purpose, nor does Veritas warrant that such site or content is free from any claims of copyright, trademark or other infringement of the rights of third parties or that such site or content is devoid of viruses or other contamination. Veritas Funding does not guarantee the authenticity of documents on the Internet. Links to non-Veritas Funding sites do not imply any endorsement of or responsibility for the opinions, ideas, products, information or services offered at such sites, or any representation regarding the content at such sites.
No Advertising / No Links. Veritas Funding does not permit third-party advertising on this website. Except with the written permission of Veritas Funding, you agree that you will not create links from any website or web page to this website or any web page within this website.
Revisions and Modifications
You agree and acknowledge that we may revise or change these Terms of Use at any time, without notice to you, and you agree that you will be bound by the provisions of these Terms of Use as they appear on this website at the time you access this website. Because these Terms of Use may change, we encourage you to refer back often to these Terms of Use. In addition, you agree and acknowledge that all other content, services, products and materials on or available through this website are subject to updating and revision without notice to you. You further acknowledge and agree that individual modifications to the Terms of Use may not be altered by contract unless expressly permitted in writing by the authorized legal representative of Veritas Funding.
Location
You understand and acknowledge that Veritas Funding controls and operates this website from within the United States of America. This website provides information regarding services and products that are made available in the United States only. We make no representation that the services or products about which information may be provided on this website will be available (a) anywhere outside of the United States or (b) in every state within the United States. You acknowledge and agree that you are responsible for compliance with all federal, state and local laws applicable to your access to and use of this website.
User Names and Passwords
Certain areas or features of this website may be restricted to users who have obtained a user identification and password by completing a registration process described on this website. Please be sure to protect and maintain the confidentiality of any user identification, password or other identifying information you may obtain in connection with your use of this website. You agree to notify Veritas Funding immediately if you believe your user identification, password or other identifying information has been lost, stolen or otherwise compromised. You also acknowledge and agree that you are solely responsible for all damages or claims that may arise from any access to or use of this website by any person to whom you have provided your user identification, password or other identifying information, or by any person who has obtained such information from you, including, but not limited to, any access to or use of this website that may occur after you have notified us that your user identification, password or other identifying information has been lost, stolen or otherwise compromised.
Privacy and Security
For information on how Vertias Funding uses and protects the personal information that you may provide through this website, please visit: vfund.com/privacy
Indemnification
If you make any unauthorized use of this website or violate the Terms of Use: (a) you may be in violation of copyright and other laws of the United States, as well as applicable state laws, and may be subject to penalties, and (b) you may be responsible for damages caused to the Company. You agree to indemnify Veritas Funding and its affiliates, vendors and licensors, and all of the employees, officers, directors, agents and representatives of Veritas Funding and its affiliates, vendors and licensors, against, and to hold all of them harmless from, all costs, claims, damages, expenses or other losses, including attorney's fees and court costs, that arise from or are related to your use of this website and/or your breach/violation of or failure to comply with the Terms of Use.
DISCLAIMERS
THE WEB PAGE CONTENT ON OR AVAILABLE THROUGH THIS WEBSITE IS PROVIDED "AS IS" AND WITHOUT WARRANTIES OF ANY KIND, EITHER EXPRESS OR IMPLIED. TO THE FULLEST EXTENT PERMISSIBLE UNDER APPLICABLE LAW, VERITAS FUNDING DISCLAIMS ALL WARRANTIES, EXPRESS OR IMPLIED, INCLUDING, BUT NOT LIMITED TO, ALL IMPLIED WARRANTIES OF MERCHANTABILITY, FITNESS FOR A PARTICULAR PURPOSE, TITLE AND NON-INFRINGEMENT. VERITAS FUNDING MAKES NO REPRESENTATION OR WARRANTY REGARDING THE WEB PAGE CONTENT OR ITS USE THEREOF. THE WEB PAGE CONTENT ON OR AVAILABLE THROUGH THIS WEBSITE COULD INCLUDE INACCURACIES OR TYPOGRAPHICAL ERRORS AND COULD BECOME INACCURATE BECAUSE OF DEVELOPMENTS OCCURRING AFTER THEIR RESPECTIVE DATES OF PREPARATION OR PUBLICATION. VERITAS FUNDING HAS NO OBLIGATION TO MAINTAIN THE CURRENCY OR ACCURACY OF ANY WEB PAGE CONTENT ON OR AVAILABLE THROUGH THIS WEBSITE.
YOU ACKNOWLEDGE AND AGREE THAT VERITAS FUNDING IS NOT, AND SHALL NOT BE, RESPONSIBLE FOR THE RESULTS OF ANY DEFECTS THAT MAY EXIST IN THIS WEBSITE OR ITS OPERATION. AS TO THE OPERATION OF THIS WEBSITE, VERITAS FUNDING EXPRESSLY DISCLAIMS ALL WARRANTIES OF ANY KIND, WHETHER EXPRESS OR IMPLIED, INCLUDING, BUT NOT LIMITED TO THE IMPLIED WARRANTIES OF MERCHANTABILITY AND FITNESS FOR A PARTICULAR PURPOSE. VERITAS FUNDING MAKES NO REPRESENTATION OR WARRANTY THAT (A) THE OPERATION OF THIS WEBSITE WILL MEET YOUR OR ANY OTHER USER'S REQUIREMENTS; (B) ACCESS TO THE WEBSITE WILL BE UNINTERRUPTED, TIMELY, SECURE, OR FREE OF ERRORS, VIRUSES OR OTHER HARMFUL COMPONENTS; OR (C) ANY DEFECTS IN THIS WEBSITE WILL BE CORRECTED. YOU AGREE THAT YOU, AND NOT VERITAS FUNDING, WILL BEAR THE ENTIRE COST OF ALL SERVICING, REPAIR, CORRECTION OR RESTORATION THAT MAY BE NECESSARY FOR YOUR DATA, SOFTWARE PROGRAMS OR COMPUTER EQUIPMENT BECAUSE OF ANY VIRUSES, ERRORS OR OTHER PROBLEMS YOU MAY HAVE AS A RESULT OF USING OR VISITING THIS WEBSITE.
LIMITATION OF LIABILITY
YOU AGREE THAT UNDER NO CIRCUMSTANCES WILL VERITAS FUNDING BE LIABLE TO YOU OR ANY OTHER PERSON OR ENTITY FOR ANY DAMAGES OR INJURY, INCLUDING ANY DIRECT, SPECIAL, INCIDENTAL, CONSEQUENTIAL OR PUNITIVE DAMAGES OR ANY DAMAGES OR INJURY CAUSED BY ERROR, INACCURACY, OMISSION, INTERRUPTION, DEFECT, FAILURE OF PERFORMANCE, DELAY IN OPERATION OR TRANSMISSION, TELECOMMUNICATIONS FAILURE OR COMPUTER VIRUS OR OTHER PROBLEM, THAT MAY RESULT FROM THE USE OF, OR THE INABILITY TO USE, THIS WEBSITE OR THE WEB PAGE CONTENT ON OR AVAILABLE THROUGH THIS WEBSITE, WHETHER IN AN ACTION ALLEGING BREACH OF CONTRACT, NEGLIGENCE OR ANY OTHER CAUSE OF ACTION, OR ARISING OUT OF OR IN CONNECTION WITH THE USE OR PERFORMANCE OF ANY WEB PAGE CONTENT ON OR AVAILABLE THROUGH THIS WEBSITE. YOU AGREE THAT VERITAS FUNDING SHALL NOT BE LIABLE EVEN IF WE OR OUR AUTHORIZED REPRESENTATIVES HAVE BEEN ADVISED OF THE POSSIBILITY OF SUCH DAMAGES.
APPLICABLE LAW MAY NOT ALLOW THE EXCLUSION OF CERTAIN WARRANTIES OR THE LIMITATION OR EXCLUSION OF LIABILITY FOR INCIDENTAL OR CONSEQUENTIAL DAMAGES. ACCORDINGLY, SOME OF THE ABOVE LIMITATIONS OR EXCLUSIONS MAY NOT APPLY TO YOU. HOWEVER, IN NO EVENT SHALL VERITAS FUNDING'S TOTAL LIABILITY TO YOU FOR DAMAGES, LOSSES, AND CAUSES OF ACTION (WHETHER IN CONTRACT, TORT OR OTHERWISE) EXCEED THE AMOUNT PAID BY YOU, IF ANY, IN ACCESSING OR USING THIS WEBSITE OF WEB PAGE CONTENT THEREON.
Agreement to Provide Accurate Information
In making a loan inquiry, application or in entering into any other transaction or request for information on this website, you agree to provide accurate, true, current, and complete information upon which Veritas Funding may rely.
Your Cooperation Needed
Veritas Funding generally begins processing your application (which may include ordering an appraisal, credit report, title commitment and other necessary items) upon the submission of a full and complete application. If you submit an application, you agree to cooperate with the application process (including submitting all required documentation in a timely manner) and if needed, to obtain information Veritas Funding may need from third parties such as your bank, employer, current mortgage company, etc. In addition, you agree to notify Veritas Funding of any changes in any information submitted in connection with your application.
Reasonable Efforts
While Veritas Funding will use all of its reasonable efforts to have your application fully processed and closed on or before any applicable rate lock expiration date (if any) and/or anticipated closing date, some process is not under our control. For instance, Veritas Funding cannot be responsible for delays in loan approval or closing due to the untimely receipt of an acceptable appraisal; the untimely receipt of required documentation; your existing home not selling; matters disclosed by a title commitment or survey; any other matters beyond Veritas Funding's reasonable control.
Governing Law
You agree that these Terms of Use shall be governed by and construed in accordance with the laws of the State of Utah, without giving effect to any principles of conflicts of law. You agree that any action at law or in equity arising out of or relating to these Terms of Use or the use of this website shall be filed only in the state or federal courts located in Salt Lake County, Utah, and you hereby consent and submit to the personal jurisdiction of such courts for the purposes of litigating any such action.
Severability
You agree that if any provision of these Terms of Use shall be found to be unlawful or void, or for any reason unenforceable, then that provision shall be deemed severable from the other provisions of these Terms of Use and shall not affect the validity and enforceability of such other provisions.
Opt-Out
Veritas Funding takes privacy seriously. Your address and personal information are safely stored in our database. We do not share or sell this information to anyone. You can unsubscribe from this list by submitting an opt out request here.
Questions

Questions regarding Terms of Use, Privacy Policy, or other policy-related material can be directed to Veritas Legal Counsel. They can be reached by email at: legal@vfund.com