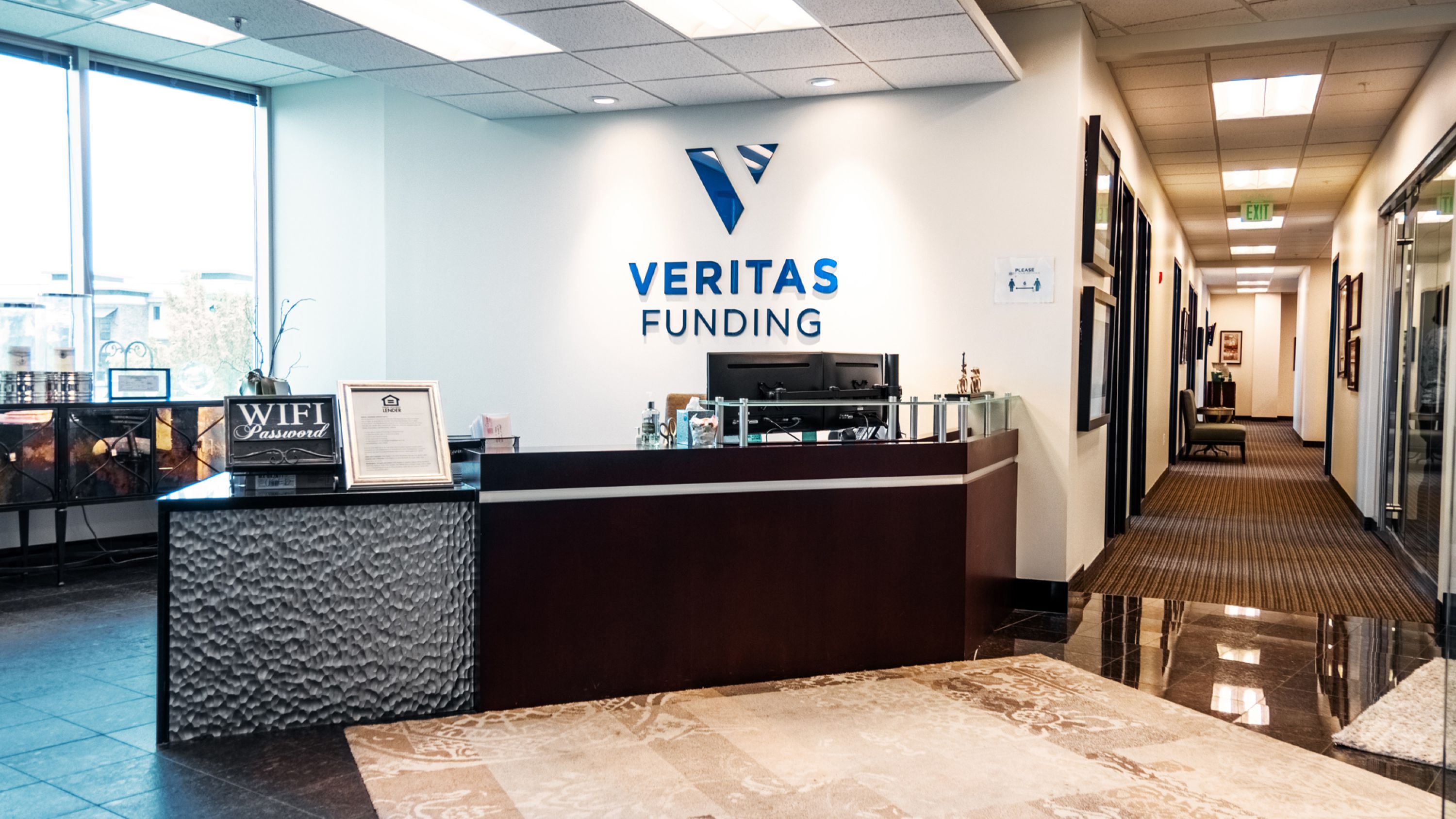 Online Privacy Policy
Privacy Policy
Veritas funding is committed to respecting and protecting your privacy. Your privacy is very important to us. This Online Privacy Policy discloses what information we gather, how we use it and how we share it with others. It is our intention to give you an understanding of how we collect your information and the use we make of it in the course of our business. This policy covers all of Veritas' online services, including the Veritas website, mobile apps, and Veritas-branded social media sites or pages, as well as any interactions you may have while viewing content provided through one of Veritas's digital advertising campaigns.
As you review this Online Privacy Policy, it is important to note a couple items. Our online services are not intended for children under 18. We do not knowingly collect personal information from children under 18 without parental consent.
We generally gather two types of information about Customers:
personally identifiable data that Customers provide through optional, voluntary use our online services; and
data we gather through tracking of online services use.
Information We Collect
Why We Collection Information
We may collection personal information about you from the information you provide to us when you fill out an application or other form on our website. We need to know information about you for us to provide you with the mortgage loan products and services you have requested through Vertias Funding's website.
We use the information you provide to process your request for services, products, or information to facilitate your mortgage loan and improve customer service.
Personally Identifiable Information
When you visit or use our online services, we may collect personal information from or about you such as your name, email address, mailing address, telephone number(s), loan numbers, location information, user name and password. We may also collect social security numbers where we believe it is reasonably required for ordinary business purposes.
Protecting Your Information
We make use of the Secure Socket Layer (SSL) transaction protocol, largely accepted as an industry standard. The purpose of this encryption protocol is to keep confidential the information passed back and forth between a Web server and its users. We also use 128-Bit Domestic Grade Strong Encryption, a powerful encryption commercially available for Internet products. Most standard browsers including Microsoft, Apple, Google, and Mozilla products make use of this encryption.
We work to protect personally identifiable information stored on servers from unauthorized access using industry standard computer security products, such as firewalls, as well as carefully developed security procedures and practices. In addition, a username, and password are required for you to use, view or change the personally identifiable information you have provided us. We use both internal and external resources to review the adequacy of our security measures on a regular basis.
Other Information
In addition to the personal information described above, we may collect certain information about your use of our online services. For example, we may capture the IP address of the device you use to connect to the online service, the type of operating system and browser you use, and information about the site you came from, the parts of our online service you access, and the site you visit next. We or our third-party partners may also use cookies, web beacons or other technologies to collect and store other information about your visit to, or use of, our online services. In addition, we may later associate the usage and other information we collect online with personal information about you.
Use of Information
We use the information discussed above in a number of ways, including, but not limited to the following: taking and processing your loan application; verifying your identity; responding to your requests and communicating with you; managing your preferences; performing analytics concerning your use of our online services, including your responses to our emails and the pages and advertisements you view; providing you tailored content and marketing messages; complying with and enforcing applicable legal requirements, relevant industry standards, contractual obligations and our policies; and for any other purposes that we may specifically disclose at the time you provide or we collect your information. We may also use data that we collect on an aggregate or anonymous basis for various business purposes, where permissible under applicable laws and regulations.
We do not sell any personal information to list brokers, mail-order businesses, or telemarketers. Your information is delivered to loan officers and other mortgage professionals for the purpose of finding you an appropriate solution for your lending needs. We restrict access to the information obtained from our website and webpages to our employees and only those parties needed to process your information, buy Veritas Funding reserves the right to share your information with whom we work, including but not limited to, insurance other business affiliates of Veritas Funding, title companies, appraisers, and mortgage professionals.
Disclosure of Information
We may share the information we collect from and about you with our affiliates and other third parties. For example, we may share your information with Veritas third-party service providers; and other third parties to comply with legal requirements such as the demands of applicable subpoenas and court orders; to verify or enforce our terms of use, our other rights, or other applicable policies; to address fraud, security or technical issues; to respond to an emergency; or otherwise to protect the rights, property or security of our customers or third parties. Where appropriate, we will limit sharing of your information in accordance with the choices you have provided us in response to our Consumer Privacy Policy.
Cookies and Other Tracking Technologies
We and other companies we work with may deploy and use cookies and other tracking technologies for various purposes, such as fraud prevention and monitoring our advertising and marketing campaign performance. Some of these tracking tools may detect characteristics or settings of the specific device you use to access our online services. "Cookies" are small amounts of data a website can send to a visitor's web browser. They are often stored on the device you are using to help track your areas of interest. Cookies may also enable us or our service providers and other companies we work with to relate your use of our online services over time to customize your experience. Most web browsers allow you to adjust your browser settings to decline or delete cookies, but doing so may degrade your experience with our online services.
Behavioral Advertising
Online behavioral advertising (OBA) or interest-based advertising refers to the practice of collecting information from a computer or device regarding a visitor's web-browsing activities across non-affiliated websites over time in order to deliver advertisements that may be of interest to that visitor based on their browsing history. Through OBA, we hope to deliver advertisements that are most likely to be of interest to you using information about your other web-browsing activities (e.g., the web pages you visit, search terms you enter, and the way you move through our online services on your computer or device) or your personal profile (e.g., demographic or location information). Certain companies we work with may set cookies and use related tracking technologies, throughout our online services or in our communications to support these OBA efforts. If you do not want your information collected and used by the companies we work with for OBA purposes, you can opt out of this form of OBA by following the instructions in the next section.
Opting Out of "Online Behavioral Advertising" (OBA)
There are two (2) ways that you can opt out of OBA from certain Veritas ads on third-party websites. One way is through the cross-industry Self-Regulatory Program for Online Behavioral Advertising (Opens Overlay) managed by the Digital Advertising Alliance (DAA). To opt out of OBA, please click on the following link and follow the instructions: http://youradchoices.com (Opens Overlay). Another way to opt out of OBA is by clicking on the Advertising Options Icon featured on certain Veritas ads on third-party websites. When clicked it (i) describes the collection and uses of data gathered at the relevant third-party website and (ii) provides a way for you to opt out of data collection and use by the third parties listed for the purposes of OBA. To learn more about online behavioral advertising or to opt-out of this type of advertising, please click on the following link: www.networkadvertising.org.
Linking to Third-Party Websites
Veritas may provide links to websites that are owned or operated by other companies ("third-party websites"). When you use a link online to visit a third-party website, you will be subject to that website's privacy and security practices, which may differ from ours. You should familiarize yourself with the privacy policy, terms of use and security practices of the linked third-party website before providing any information on that website.
Changes to this Online Privacy Policy
We may change this Online Privacy Policy from time to time. Any changes to this Online Privacy Policy will be posted here and will become effective immediately. If you do not agree with these changes to how your information is used, do not continue to use this website.
We may log all activity on the website and we periodically review that activity to determine the use of the site and will report malicious and or inappropriate activity to the appropriate law enforcement authorities. We maintain physical, electronic, and procedural safeguards designed to protect your personal information. If you do not agree with any of these stipulations and policies of Veritas Funding, you shall discontinue use of this website. By clicking on any button on this website, you agree to the terms and conditions set forth in our privacy policy.
If you have any questions, concerns, or compliances about the integrity of your account information, or any other aspect of our business operations, please do not hesitate to contact us at:
VERITAS FUNDING
legal@vfund.com
CONSUMER PRIVACY POLICY
| | |
| --- | --- |
| FACTS | WHAT DOES VERITAS FUNDING DO WITH YOUR PERSONAL INFORMATION? |
Why?

Financial companies choose how they share your personal information. Federal law gives consumers the right to limit some but not all sharing. Federal law also requires us to tell you how we collect, share, and protect your personal information. Please read this notice carefully to understand what we do.

What?

The types of personal information we collect and share depend on the product or service you have with us. This information can include:

Social Security number and Income
Account balances and Employment information
Credit history and Credit scores

How?

All financial companies need to share customers' personal information to run their everyday business. In the section below, we list the reasons financial companies can share their customers' personal information; the reasons Veritas chooses to share; and whether you can limit this sharing.
| | | |
| --- | --- | --- |
| Reasons we can share your personal information | Does Veritas share? | Can you limit this sharing? |
| For our everyday business purposes — such as to process your transactions, maintain your account(s), respond to court orders and legal investigations, or report to credit bureaus | Yes | No |
| For our marketing purposes — to offer our products and services to you | No | We Don't Share |
| For joint marketing with other financial companies | No | We Don't Share |
| For our affiliates' everyday business purposes — information about your transactions and experiences | No | We Don't Share |
| For our affiliates' everyday business purposes — information about your creditworthiness | No | We Don't Share |
| For nonaffiliates to market to you | No | We Don't Share |
To limit our sharing

Call 801.639.0900 – we'll discuss your choice(s) with you or
Visit us online – www.vfund.com

Please note:
If you are a new customer, we can begin sharing your information 30 days from the date we sent this notice. When you are no longer our customer, we continue to share your information as described in this notice. However, you can contact us at any time to limit our sharing.

Questions?

Call 801.639.0900 or go to www.vfund.com
Who we are

Who is providing this notice?

Veritas Funding, LLC
What we do

How does Veritas protect my personal information?

To protect your personal information from unauthorized access and use, we use security measures that comply with federal law. These measures include computer safeguards and secured files and buildings.

How does Veritas collect my personal information?

We collect your personal information, for example, when you

Apply for a loan or
Give us your income information or
Give us your employment history or
Provide account information or
Provide your mortgage information

Why can't I limit all sharing?

Federal law gives you the right to limit only

sharing for affiliates' everyday business purposes — information
about your creditworthiness
affiliates from using your information to market to you
sharing for nonaffiliates to market to you

State laws and individual companies may give you additional rights to limit sharing.

What happens when I limit sharing for an account I hold jointly with someone else?

Your choices will apply to everyone on your account - unless you tell us otherwise
Definitions

Affiliates

Companies related by common ownership or control. They can be financial and nonfinancial companies.

Veritas has no affiliates.

Nonaffiliates

Companies not related by common ownership or control. They can be financial and nonfinancial companies.

Veritas Funding does not share with nonaffiliates so they can market to you.

Joint marketing

A formal agreement between nonaffiliated financial companies that together market financial products or services to you.

Veritas does not jointly market.
Other important information
n/a